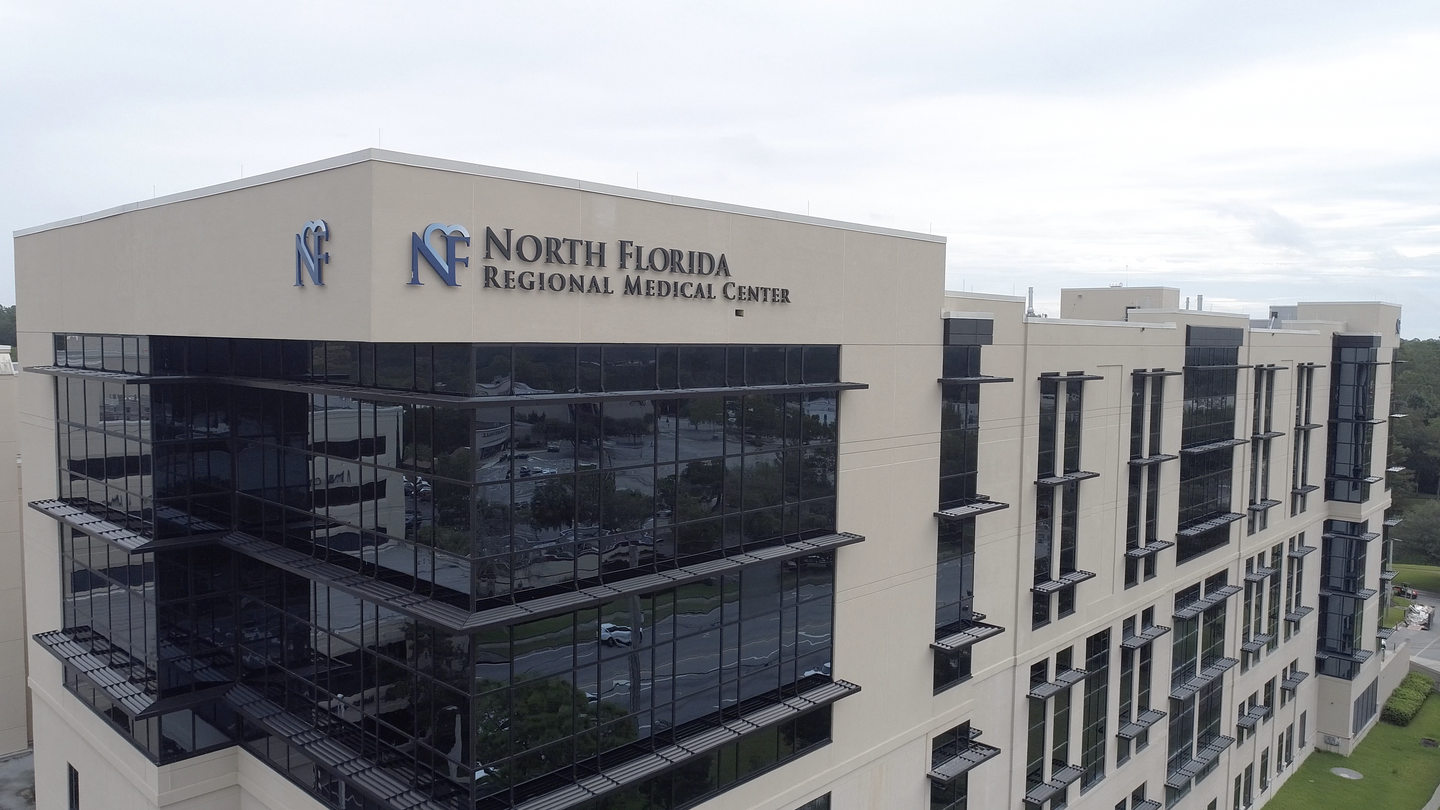 Welcome from our Program Director
The Internal Medicine Residency Program in the University of Central Florida/HCA Healthcare Graduate Medical Education Consortium welcomes you to learn more about our training program. Our primary affiliated hospital is HCA Florida North Florida Hospital in Gainesville, Florida. In our program, you'll be mentored by faculty with extensive knowledge and experience while getting the chance to pursue your interests.
ACGME: 1401100938
NRMP: 1587140C2
Have any questions? Reach out to us!
For more information, please contact our program coordinator.
Program overview
At HCA Florida North Florida Hospital, our Internal Medicine Residency Program provides comprehensive and balanced educational training to prepare residents for careers in ambulatory primary care, hospital medicine, traditional internal medicine, fellowship training and board certification.
Our residency program is sponsored by the University of Central Florida/HCA Healthcare GME Consortium. The central educational hub of the consortium is the University of Central Florida College of Medicine in Lake Nona, the site of Orlando's blossoming Medical City.
The Internal Medicine Residency Program is located at our Gainesville branch. Our program recognizes the importance of training caring individuals who can practice their specialty while displaying knowledge of the humanistic qualities that come with serving as an internal medicine physician.
We teach and incorporate basic science while making sure each resident understands the pathophysiology of disease. Residents work with our physician team leadership analyzing and assimilating clinical data and applying evidence-based literature to determine the proper course of treatment for patients.
One of our goals is to impart future physicians with the knowledge, skills and attitudes required to provide exceptional care in internal medicine. Residents graduate with a clear understanding of the natural history of disease, the ability to select diagnostic tests appropriately and a clear knowledge of the best practices in providing cost-effective, evidence-based treatment.
Curriculum and rotation schedule
Our expertly crafted programs are designed to provide residents and fellow physicians with all the experiences and training necessary for professional success.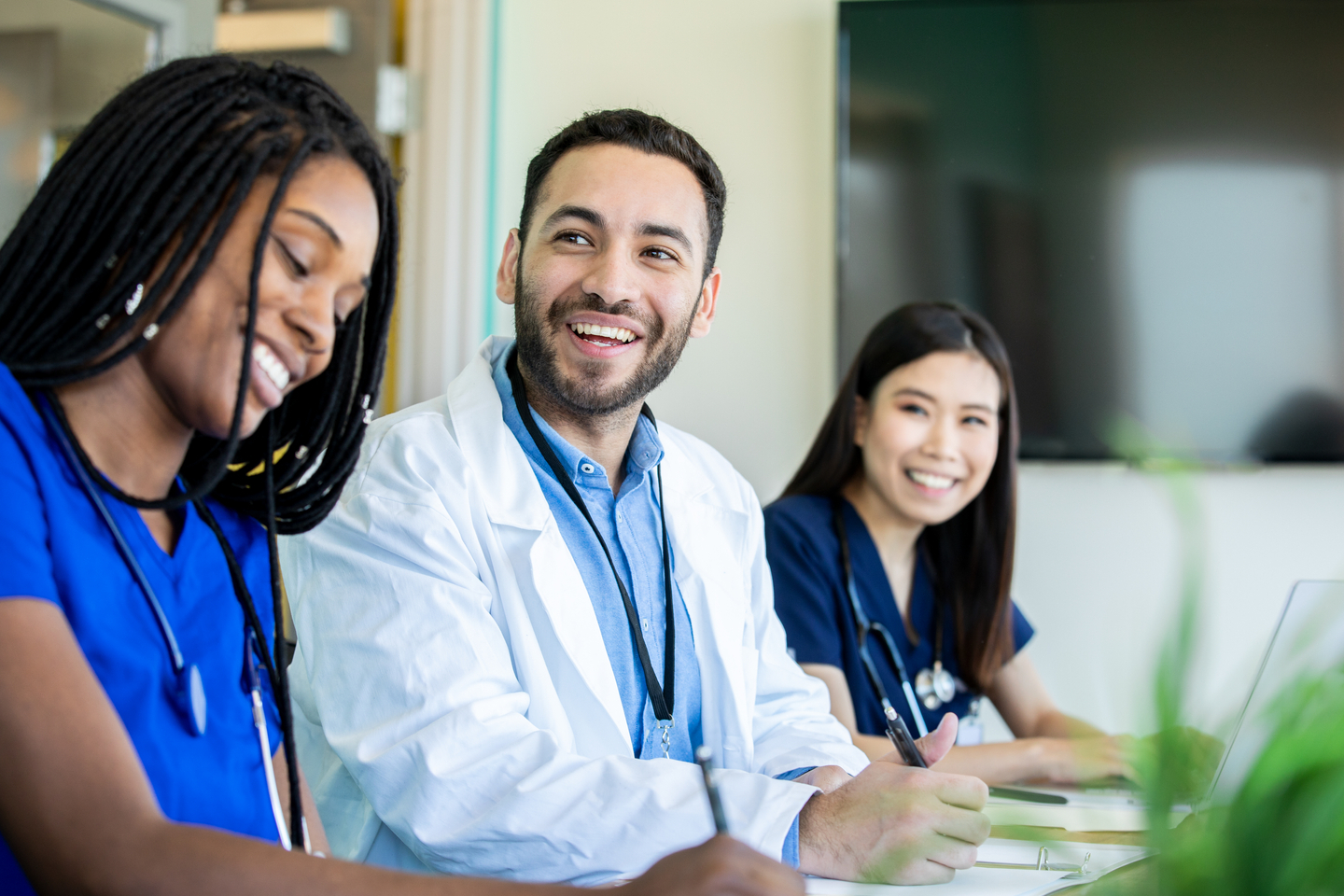 Our Program Director and staff
Our team is comprised of skilled experts with deep experience and knowledge from which residents and fellows can benefit.
Program details
Conference schedule
Our Internal Medicine Program is dedicated to providing the support and resources needed to become an exceptional physician.
We focus not only on the clinical exposure to your specialty but on the unique opportunities for personal and professional development that's built on a strong core of medical knowledge.
Our residents and faculty focus on 12 curricular initiatives:
Comprehensive and integrated core curriculum given in dedicated weekly learning blocks
Supervised clinical training in an academic, community-based medical center
Monthly evidence-based medicine conference (debate style), journal club, and Morbidity and Mortality conference
Weekly Grand Rounds or Senior Resident Guideline/Innovation Talks
Biweekly general medicine and subspecialty morning report
Structured research curriculum led by our dedicated GME Office of Research
Chief resident/master clinician bedside teaching rounds
Excellence in medicine professionalism enhancement training
Faculty-led board review (MKSAP, MedStudy, UWorld)
Bimonthly resident wellbeing with our dedicated program psychologist
Monthly resident business meetings for empowering resident-led change
Regular simulation lab training on procedures and emergency situations
Continuity clinic
We have developed a rigorous primary care academic curriculum designed to teach topics emphasizing the most cost-effective, evidence-based, patient-centered approach. Our continuity clinic is a 20-room, multimedia-enhanced clinic designed from the ground up with resident training in mind. Our faculty, residents, and community partners work hand-in-hand to enhance the health of our community.
Our goal is to train competent physicians proficient in diagnosing and managing diseases and to provide health maintenance in an office-based adult medicine practice. Structured weekly conferences will mirror the core curriculum with a focus on medical conditions seen predominately in the outpatient setting. Other topic areas will emphasize preoperative medical management, screening, immunizations, identifying risk factors for disease and preventative health care.
---
Salary
The following salaries are for the fiscal year 2021-2022 and may differ from future years' salaries.
PGY1: $55,267
PGY2: $56,819
PGY3: $59,587
---
Benefits
Residents in ACGME-accredited programs sponsored by the Consortium have many of the same benefits as regular UCF employees. However, there are differences in the retirement plans and the leave policy for residents.
Leave
Leave benefits are as follows:
15 days paid vacation per year for PGY1 residents
20 days paid vacation per year for PGY2 and PGY3 residents
10 days paid sick time per year
Time off for scholarly conferences and interviews is decided case-by-case (we are restricted to the ABIM policy allowing a maximum of one month away from residency training per year including vacation)
Step 3: PGY1 residents receive two days off for the exam plus one travel day if required
Up to three months may be taken for personal and family emergencies (FMLA) but it should be noted that FMLA benefits do not kick in until after a year of service within our consortium (PGY2 year and later). Salaries and benefits are stopped during this time and you may be required to make up this time at the end of your residency.
It is strongly encouraged that residents review the board eligibility requirements for their own specialty. Many boards require 36 months of training. While vacation leave cannot be accumulated or carried over from contract year to contract year, five sick days are able to be carried over at the end of a contract year if they have not been used. It is at the discretion of the program director to require verification from a clinical provider.
Insurance
The Human Resources website for UCF provides many details of the types of insurance provided to residents, such as:
Medical insurance
Disability insurance
Life insurance
Dental insurance
Other supplemental policies
Malpractice coverage
Residents are provided with Professional Liability Coverage for $200,000/$1,000,000.
Technology devices
Residents will be issued an iPhone and laptop. Items will be returned at the conclusion of the residency.
Licensing and DEA
The cost for training licenses in the state of Florida will be paid by the program. Residents receive a "fee exempt" DEA certificate during their training, which can only be used at training sites.
Life support training
Costs incurred for obtaining required life support training (basic life support, pediatric advanced life support, neonatal resuscitation program and advanced trauma life support), including any required renewals are covered by the program.
Subscriptions
Several subscription costs are covered by the program. Examples of subscriptions include but are not limited to UpToDate, MKSAP, UWorld, ClinicalKey, AccessMedicine, and NEJM Resident 360. Our program formally meets with residents at least annually to decide how the program budget can best serve the needs of our residents' education through reimbursement of resources.
USMLE Step 3/COMLEX III
Costs incurred for USMLE/COMLEX may be eligible for payment by the program. It is advisable to contact program leadership prior to registration for more details.
Parking
Residents may park in any area that is not designated as patient/visitor or physician parking. This includes available spaces with covered parking structures.
Meals/snacks
Residents are provided lunch during most educational activities that occur over the lunch hour. Residents also receive a monthly $100 stipend, referred to as Knight Bites, that they can use within the hospital cafeteria/shops for snacks and meals.
Resident call rooms
The call rooms located in the basement of the Women's Center are dedicated to the use of the residents. There are 11 call rooms and several shower facilities available.
VPN accounts
VPN accounts for home access to our hospital's medical records and library resources.
NEJM Knowledge plus
Comprehensive adaptive learning combined with gold-standard questions and thoughtful feedback provides the best way for clinicians to learn, improve patient care, prepare for exams, and earn CME and MOC.
---
Mission statement
The HCA Florida North Florida Hospital Internal Medicine Residency Program's mission is to develop the next generation of physicians and physician leaders.
As a part of HCA Healthcare, we are driven by a single mission: Above all else, we are committed to the care and improvement of human life.
This program is designed to offer residents a rewarding, educational environment where residents are provided individualized learning opportunities by faculty and staff who support and sustain one another throughout quality care delivery. Our faculty are committed to ensuring the resident's clinical experience and educational needs are fulfilled while expanding residents' perspectives to be inclusive of cultures, values and ideals.
Frequently asked questions about our Internal Medicine Residency Program
You can find answers to the most common questions about our program below.
FAQs
Why should I consider doing my residency at UCF/HCA GME Consortium Gainesville?
UCF provides an academic framework for your post-graduate medical training and supports current strategies in adult education to maximize your growth. HCA Florida North Florida Hospital, as our primary training site, is a community-based, academic internal medicine residency training hospital dedicated to training physicians for careers in hospital medicine, outpatient medicine, traditional internal medicine or fellowship training.
The program has developed some unique curricular learning models that emphasize developing a clear understanding and appreciation for the natural history of disease, appropriate and cost-effective use of diagnostic tests and knowledge of "best practice" and evidence-based treatment.
What types of research opportunities are available?
Our program supports independent learning and research. Research in GME is broadly defined as all scholarly activity, including case reports, case series, book chapters, review articles, retrospective research and prospective research.
Residents are also tasked with various quality improvement projects. These projects, which often operate internally, can also go through an approval process allowing that effort to transform into external publication. Residents will benefit from our dedicated GME Office of Research, monthly resident research education and collaboration sessions.
HCA Healthcare also has access to one of the largest clinical databases in the country. Residents access this data for research purposes with IRB approval and with the help of biostatisticians and an on-site research fellow. The training and resources provide both experienced and less experienced learners with the opportunity to engage in clinical research. Residents will acquire knowledge of research performance and develop skills required to accurately assess, critically analyze and fluently discuss the medical literature.
How does the 4+1 teaching block model work?
The program has adopted a 4+1 teaching block model design. Residents will spend two to four weeks of each block rotating on required or elective rotations. During one week of the five week block the resident will rotate in the continuity clinic. Our residents feel that this schedule allows them to focus on learning outpatient medicine rather than being pulled by competing priorities.
This schedule also allows our residents to periodically receive a 2-day weekend free of clinical duties. We are considering a 4+2 model for the future, but have not implemented these changes at this point.
What is the eligibility criteria required to apply to the program?
Ability to carry out the duties as required by the internal medicine residency program.
Proficiency in the English language.
Meet one of the following qualifications:

Graduate of a medical school in the US or Canada accredited by the Liaison Committee on Medical Education (LCME), or
Graduate of a college of osteopathic medicine in the US or Canada accredited by the American Osteopathic Association (AOA).
Eligible for temporary resident licensure in the state of Florida. Here is a list of temporary license eligibility requirements.
Medical school graduation within two years of potential start date.
How does the 18-month comprehensive core curriculum work?
The 18-month curriculum emphasizes the medical, pathological, psychosocial, radiologic and in some cases the preoperative and surgical management of disease. Cost-effective management of certain aspects of chronic disease may also include lifestyle or psychosocial strategies. Evidence behind this approach will be analyzed and incorporated into treatment algorithms where compatible with standard of care.
We believe that it is important for our learners to have an in-depth appreciation and understanding of the natural history, pathophysiology, and psychosocial aspects of disease and to learn the skill of clinical reasoning and forming patient partnerships through effective communication and management. Our inpatient and outpatient curriculum includes education on common, straightforward disease processes as well as the less common or more ambiguous disease processes.
Residents will be exposed to each key topics through multiple modalities of learning during their training, reinforcing key concepts, recall and application of information.
What is the evidence-based conference?
The purpose of this conference is for residents to develop the skills necessary to practice evidence-based medicine. Prior to the conference, two teams of residents will select a topic in medicine that has recently been challenged by new practices or new data. Each group of resident presenters will be expected to describe evidence from the literature supporting their differing positions. Residents will be expected to provide source of information, quality of information and the potential impact that a recommendation has on his/her patient. Resident groups will have up to 20 minutes to present the evidence.
This conference represents the skills to be able to perform an in-depth review of current medical literature and translate new information into a succinct format. The debate format sharpens the analytical skills of the audience-learners in identifying bias and clinical validity. The EBM conference is one of four reoccurring conferences including morbidity and mortality, journal club and grand rounds.
What is the simulation lab?
The simulation lab provides a structured, low-risk environment to train certain aspects of physical examination, clinical reasoning and procedural skill. The simulation lab includes physical exam components that might be difficult or uncomfortable to learn on real patients — such as breast exam, prostate exam, or cervical exam. Our computerized simulation manikin allows us to recreate emergency cardiopulmonary scenarios, which require rapid diagnosis and intervention to prevent serious harm or death.
Other equipment allows residents to gain basic knowledge and skill with performing key procedures such as vascular lines, thoracentesis, lumbar puncture and joint injection. An investment of more than $1 million dollars has been made to facilitate this phase of your learning.
How does the morning report work?
We have at least two morning reports per week. One is from our general internal medicine or ICU teams. One is from our subspecialty teams. Morning reports involve a case presentation by the junior resident. Topics can include common or rare disease presentations. The presentation should be interactive and focus on real-time audience engagement, recreating the thought process necessary to step through the case.
An upper level resident and faculty member are involved in fostering appropriate differential diagnosis, determining a cost-effective workup, and arriving at the final diagnosis (or consensus). The upper level resident then promotes an interactive summative discussion about the topic, including diagnosis and treatment.
How many PGY1 positions are available?
Up to 20 positions are available annually.