Family Medicine Residency Program at HCA Florida North Florida Hospital
Welcome from our Program Director
Welcome to our family! Our goal is to provide outstanding evidence-based inpatient and outpatient medical care to the underserved community of Gainesville, Florida. This is our passion and this is our strength.
ERAS: 1201100730
NRMP: 1587120C0
Have any questions? Reach Out to Us!
For more information, please contact our program coordinator.
Program overview
Fully accredited by ACGME
Resident positions: 24 total residents, eight per year
Program type: community-based
Medical school affiliation: University of Central Florida
Continuous and comprehensive care is the essential component of our family medicine residency program.
Our residents are expected to maintain a continuing relationship with a panel of patients throughout the residency experience, assuming responsibility for the total health care of the patient and their families. We encourage all of our resident physicians to develop the skills they need to be an adult learner and educator.
Part of our curriculum works to develop a sense of discipline for continuing medical education within each resident through the use of journal clubs and scholarly activities.
In addition to training residents to be family physicians, the program also promotes their full personal development, self-growth, and maturity. This is accomplished by assisting new physicians in fully understanding the importance of balancing their professional responsibilities with their roles in life as a spouse, parent, family member, friend, and community member. We attempt to develop an adequate mix of education and service in order to avoid excessive fatigue.
In addition, each resident is assigned a family medicine faculty member who will act as their advisor. This advisor-advisee relationship is designed to provide individual mentorship and instruction as well as ensuring physician well-being through continuous, regular interaction. Residents will have access to an employee-dedicated acute clinic, on-call pastoral services, and a robust network of wellness and counseling services at their disposal.
Learn more about our programs!
Check out our facilities, faculty and more using our online program guides.
Curriculum and rotation schedule
Our expertly crafted programs are designed to provide resident and fellow physicians with all the experiences and training necessary for professional success.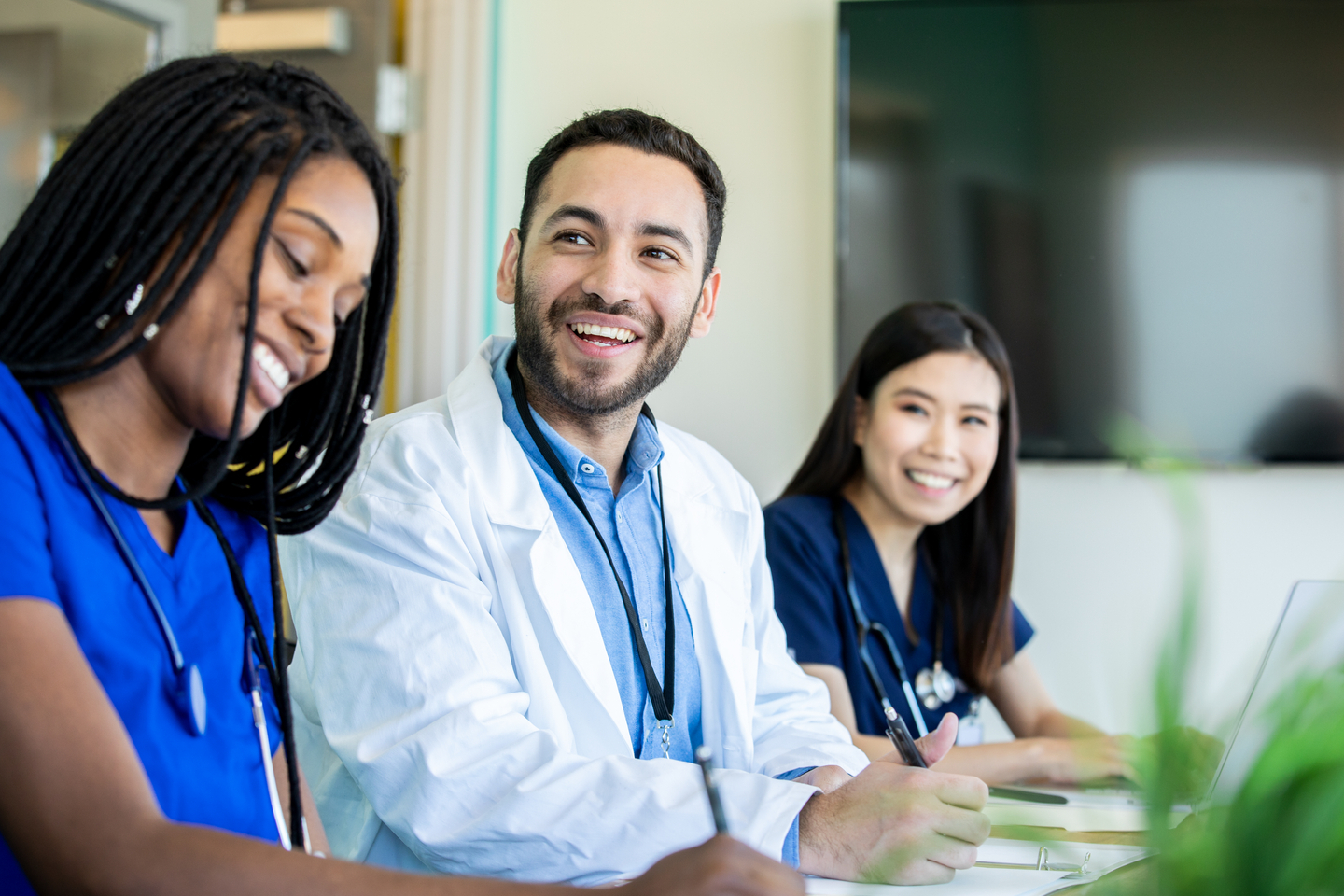 Our Program Director and staff
Our team is comprised of skilled experts with deep experience and knowledge from which residents and fellows can benefit.
Program details
Continuity Clinic
Our residents are providers at Palms Medical Group – Gainesville and Trenton. Our Gainesville clinic is mere blocks away from the hospital where we do the majority of our rotations.
Each resident has their own panel of patients and is part of a patient-centered medical home.
PGY1 will see their patients one or two half-days per week throughout the internship.
PGY2 will see their patients two to three half-days per week.
PGY3 will have a continuity clinic four half-days per week throughout the year.
Our clinic is a Federally Qualified Health Center (FQHC), a community-based organization that provides comprehensive primary and acute care, oral health, and mental health services to persons of all ages, regardless of their ability to pay or their health insurance. FQHCs are the keystone for providing medical care to the community's underserved patients.
---
Monthly Sim-Center Curriculum
We are now hosting a monthly SIM lab during our didactics led by our faculty in our world-class SIM-Center. We truly appreciate active, hands-on learning.
---
Tracks- Sports Medicine Track
Weekly Reading/Discussion Topics about pertinent topics in sports
Medicine based on the Sports Medicine Fellowship Curriculum
Monthly sports medicine Exam/Injection Workshops
Online Self-Learning Modules and available topic readings
---
Salary
Residents in ACGME accredited programs sponsored by the Consortium have many of the same benefits as regular UCF employees. However, there are differences in the retirement plans and the leave policy for residents.
The following salaries are for the fiscal year 2020-2021 and may differ from future years' salaries.
PGY-1: $53,884
PGY-2: $55,456
PGY-3: $58,590
---
Benefits
Leave
15 days paid vacation per year for PGY1 residents
20 days paid vacation per year for PGY2 and PGY3 residents
Denial of a specific request for vacation is a leadership decision on the part of the officers of the program and is not considered a grievance
10 days paid sick time per year
Time off for scholarly conferences and interviews is decided case-by-case (we are restricted to the ABFM policy allowing a maximum of one month away from residency training per year including vacation)
Step 3: PGY1 residents receive two days off for the exam plus one travel day if required
Up to three months may be taken for personal/family emergencies (FMLA). Salaries/benefits are stopped during this time and you may be required to make up this time at the end of your residency.
It is strongly encouraged that residents review the board eligibility requirements for their own specialty. Many boards (including ABFM) require 36 months of training. Paid leave (e.g., vacation, sick) cannot be accumulated or carried over from contract year to contract year. It is at the discretion of the program director to require verification from a clinical provider.
Insurance
The Human Resources website for UCF provides many details of the types of insurance provided to residents.
Medical insurance
Disability insurance
Life insurance
Dental insurance
Other supplemental policies
Malpractice coverage
Residents are provided with Professional Liability Coverage for $200,000/$1,000,000.
Technology devices
Residents will be issued an HCA iPhone and laptop. Items will be returned at the conclusion of the residency. Chart access and secure communication are available through approved mobile applications. Mobile devices and laptops will come with software required for clinical care, education and conducting research. IT support is available 24/7 for physicians.
Licensing/DEA
The cost for training licenses in the state of Florida will be paid by the program. Residents receive a "fee exempt" DEA certificate during their training, which can only be used at training sites.
Life support training
Costs incurred for obtaining required life support training (basic life support, pediatric advanced life support, neonatal resuscitation program and advanced trauma life support), including any required renewals are covered by the program.
---
Subscriptions
Several subscription costs are covered by the program. Examples of subscriptions include but are not limited to UpToDate, MKSAP, UWorld, ClinicalKey, AccessMedicine, and NEJM Resident 360. Our program formally meets with residents at least annually to decide how the program budget can best serve the needs of our residents' education through reimbursement of resources.
---
USMLE Step 3/COMLEX III
Costs incurred for USMLE/COMLEX may be eligible for payment by the program. It is advisable to contact program leadership prior to registration for more details.
---
Parking
Residents may park in any area that is not designated as patient/visitor or physician parking. This includes available spaces with the covered parking structures.
---
Meals/snacks
Residents are provided lunch during most educational activities that occur over the lunch hour.
---
Resident call rooms
The call rooms located in the basement of the Women's Center are dedicated to the use of the residents. There are 11 call rooms and several shower facilities available.
---
VPN accounts
VPN accounts for home access to our hospital's medical records as well as HCA library and UCF library resources are provided.
---
Monthly Sim-Center Curriculum
Tracks- Sports Medicine Track
Mission statement
The HCA Florida North Florida Hospital Family Medicine Residency Program's mission is to develop the next generation of physicians and physician leaders.
As a part of HCA Healthcare, we are driven by a single mission: Above all else, we are committed to the care and improvement of human life.
This program is designed to offer residents a rewarding, educational environment where residents are provided individualized learning opportunities by faculty and staff who support and sustain one another throughout quality care delivery. Our faculty are committed to ensuring the residents clinical experience and educational needs are fulfilled while expanding residents' perspectives to be inclusive of cultures, values and ideals.
Frequently asked questions about our Family Medicine Residency Program
You can find answers to the most common questions about our program below.
How many residents do you accept each year?
We accept up to eight residents per year.
What are your application criteria?
We are looking for applicants with a commitment to family medicine and the health of the community. Good interpersonal skills and a strong work ethic are equally important.
We are looking for applicants who we feel will "fit" with our team concept of learning and practicing family medicine.
What is your accreditation status?
We are fully accredited by the ACGME.
As of January 2016, our program received Continuing Accreditation Status.
Where do hospital and clinical rotations occur?
Our hospital rotations are primarily held at HCA Florida North Florida Hospital in Gainesville, FL. North Florida Regional is a 445 bed, full-service medical and surgical acute care center serving North Central Florida.
NFRMC has more than 425 physicians on staff in 40 different specialties.
We do our inpatient pediatric rotation at Osceola Hospital in Orlando, a sister hospital within the HCA system. This experience is unopposed. Housing will be provided for the month.
Where is your outpatient family medical clinic?
Our outpatient family medicine clinic is the Palms Medical Group – Gainesville, a brand new practice designed from the ground up to support a residency practice. The practice is part of Palms Medical Group, a federally qualified health center, which services North Central Florida.
The center is located 3 blocks east of the North Florida Regional campus. This state-of-the-art center will feature 25 exam rooms, a large minor surgery room, pulmonary function testing, hearing testing, on-site laboratory, conference room, preceptor room, spacious waiting rooms, and electronic medical records.
Residents with an interest in rural medicine also have the opportunity to conduct their continuity clinic at our Trenton practice.
How does your night float and call schedule work?
We consider our night float and call schedule to be a purely educational experience. Our hospital is fully staffed with attending physicians overnight and on weekends who are always available for direct supervision.
PGY-1
Our PGY-1s will have call experiences during 12-hour shifts on Saturdays and Sundays. Duties will include cross-covering patients in the hospital, and admissions from the emergency room. There is no night float for PGY-1s.
PGY-2 and 3
Our PGY-2s and PGY-3s (senior residents) will do one four-week block of night floats throughout the year. Residents on night float have no daytime responsibilities.
Senior residents will also be on-call on the weekends. This will include covering patients in the hospital, admissions from the emergency room, and obstetric deliveries.
Since the hospital is fully staffed with attending physicians on nights and weekends, your education is the top priority. You can choose to expand your experience in managing an admission or choose to deliver a baby.
Senior residents should expect one to two weekends of 24-hour in-house calls per month.
How do salary and benefits compare to other family medicine residency programs in Florida?
We offer competitive salaries and benefits for all family medicine residents that are comparable to other programs in the state.
Do you work with other residents from other specialties during residency?
We share the hospital with an internal medicine residency. You will rarely work with these residents as our inpatient population is so large, there is no need for competition. You will have your inpatient rotations on the family medicine inpatient team, which is exclusive to family medicine residents.
You will have both family physician and internal medicine attendings on his service to give you exposure to both styles of inpatient care. We are unopposed in OB/GYN and Pediatrics, which are the two competing residencies that can detract most from a family medicine residency.
What are the strengths of your residency program?
Our family medicine residency is a flexible program that allows residents to customize their experiences to prepare for their desired field of practice.
We have a superb faculty and staff that encourages residents to learn and practice in an environment that incorporates all specialties throughout the hospital.
We offer training in an excellent location and in a state-of-the-art outpatient facility. We understand the importance of the personal and family needs of our residents, which is why we offer a balanced work schedule with competitive salaries and benefits.
What procedures will I learn during the residency?
You will be trained in outpatient family medicine procedures including colposcopy, IUD insertion/removal, implantable contraception, vasectomy, circumcision, exercise stress tests, minor skin surgery, toenail removals, joint injections/aspirations and casting/splinting.
You will also have the opportunity to be trained in inpatient procedures such as central line placement, intubation, and thoracentesis.
You will participate in prenatal, antenatal and postnatal care of both the mother and infant and in the related procedures: vaginal deliveries, C-sections, limited OB ultrasound, neonatal IV, intubations, and more. You will decide if you want to pursue enough training in these procedures to be credentialed at graduation or just enough to meet the minimum requirements.
What is the inpatient medicine experience like?
The family medicine inpatient service consists of a team of two PGY-1 residents and one senior resident caring for up to 15 patients under the supervision of either a Family Medicine or Internal Medicine attending.
These patients belong to our family medicine clinic or are in need of a primary care provider. Upon discharge, patients are encouraged to continue their care with our clinical team.
Each morning, residents pre-round on assigned patients prior to attending Morning Report at 7:30 am.
All residents and FM faculty will participate in morning reports which will consist of a didactic lecture and group discussion of admissions over the last 24 hours. This allows residents and staff who are not on the inpatient service to be aware of and participate in the care of their patients while hospitalized.
Next, the residents and physicians attend rounds as a team, evaluating each patient and collaborating to create a plan of care. Afternoons are spent following up on patients, their labs, imaging, tests and consults; as well as discharging patients, admitting new patients, and teaching. Residents will have at least one afternoon for clinic care and one afternoon for academics.
PGY1 residents spend two months on the inpatient service. PGY2 and 3 spend one month per year. If a resident plans on entering a hospitalist practice at graduation they will spend more time on inpatient service as a requirement of the hospitalist tract.
How much emphasis is there on obstetrics?
The short answer is: as much as you want.
Residents are required to spend two months on obstetrics as a minimum requirement for program completion. This is both an outpatient and inpatient experience where you see patients in the OB clinic for both prenatal and postnatal care and deliver patients from the OB practice during those months.
Additionally, you will have some patients assigned to you that you will see for most of their prenatal care and ideally deliver them. If you choose to do more you can choose an OB track and have several months of obstetrics.
What about research?
Residents are required to complete a scholarly activity over the course of their training according to a point system. A minimum of 10 total points must be obtained for graduation.
Points are earned by conducting scholarly projects such as clinical trials, writing a book chapter or review article, or performing a program evaluation or quality improvement/process improvement project. This point-based system allows residents who have less research experience and who are possibly intimidated by research to engage in "smaller scale" projects such as writing review articles or conducting a small process improvement project. These "smaller scale" projects do not earn as many points so more than one is needed.