Diagnostic Radiology Residency Program at HCA Florida Aventura Hospital
Learn more about our Diagnostic Radiology Residency Program at HCA Florida Aventura Hospital in Aventura, Florida.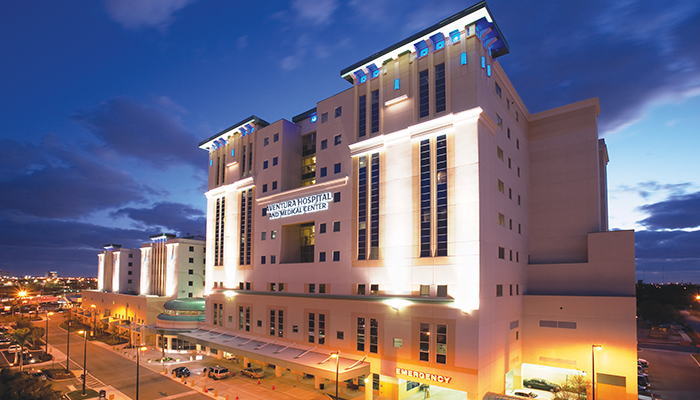 Welcome from our Program Director
Welcome to Aventura Hospital's Diagnostic Radiology Residency Program! Our program offers exposure to all medical imaging modalities and all radiology subspecialties, stemming from a diverse case volume of more than 500,000 radiologic exams and 7,000 annual interventional procedures.
Have any questions? Reach out to us!
For more information, please contact our program coordinator.
Program overview
Aventura Hospital's Diagnostic Radiology Residency Program is a four-year training program culminating in candidates who will be eligible for certification by the American Board of Radiology.
Each year, we accept five new residents for a total complement of 20. Candidates may choose between advanced (PGY-2) and categorical (PGY-1) positions.
Aventura Hospital and our integrated institutions, HCA Florida Kendall Hospital and HCA Florida Plantation Hospital, provide an educational environment highlighted by 26 fellowship-trained attendings.
We assign rotations at levels of increasing sophistication and experience. Successful completion of our program will enable the trainee to independently perform and interpret diagnostic imaging studies to the highest standards of safety, quality and accuracy.
The resident will also gain real-world experience in a private practice setting. Educational facilities include newly-designed reading rooms at each of the participating sites equipped with individual PACS workstations and ergonomic sit-stand desks. Residents attend daily conferences in-person or via state-of-the-art videoconferencing systems at each hospital. The annual didactic lecture curriculum is designed to prepare residents for clinical practice and passing the American Board of Radiology's core exam.
The program offers in-person biweekly instruction in radiation physics, radiation protection and radiation biology, starting in the R1 year. During their PGY-4/R-3 year, all residents attend the American Institute for Radiologic Pathology course, which complements the radiologic pathology education in our program.
Although our main objective is to train exceptional clinical radiologists, we consider research, teaching and practice quality improvement to be fundamental components of our training program.
All trainees are required to participate in research activities, and dedicated time and funding are given to facilitate participation. Our residents and faculty have presented their work at state, regional, national and international levels.
Because one of the goals of the program is to improve patient outcomes, each resident is also required to complete a practice quality improvement project. Several opportunities for teaching and consultation are also available.
Additionally, we stress understanding the socioeconomic context for the practice of radiology and fostering interdisciplinary relationships and collaboration with healthcare leaders.
Our Program Director and staff
Our team is comprised of skilled experts with deep experience and knowledge from which residents and fellows can benefit.
Mission statement
The HCA Florida Aventura Hospital Diagnostic Radiology Residency Program's mission is to develop the next generation of physicians and physician leaders. 
As a part of HCA Healthcare, we are driven by a single mission: Above all else, we are committed to the care and improvement of human life.
This program is designed to offer residents a rewarding, educational environment where residents are provided individualized learning opportunities by faculty and staff who support and sustain one another throughout quality care delivery. Our faculty are committed to ensuring the residents' clinical experience and educational needs are fulfilled while expanding residents' perspectives to be inclusive of cultures, values and ideals.
Frequently asked questions about our Diagnostic Radiology Residency Program
You can find answers to the most common questions about our program below.
What does our first year look like?
To begin the residency, our residents have four-week blocks in Neuro, Body, Chest, Pediatrics, MSK, Ultrasound, Breast and Nuclear Medicine. Subsequently, they are put into ER day rotations, followed by overnight and swing shifts.
Standard shifts are 8:00am to 4:00pm, but we also have staggered shifts of 7:00am to 3:00pm and 10:00am to 6:00pm for the main rotations. ER shifts are mostly at 11:00am to 7:00pm, although there are swing shifts of 4:00 pm to 11:00pm and 5:00pm to 12:00am.
Overnight shifts are 12:00am to 7:00am on the weekdays.
What is lecture like?
We have daily noon to 1:00pm "noon conference" Monday through Friday, with topics roughly equally distributed amongst the disciplines and faculty. Lectures range from pure instructional to case-based learning.
What is the distribution of time spent at HCA Florida Aventura Hospital versus the other hospitals?
You will spend roughly 70 percent of your time physically at HCA Florida Aventura Hospital, 30 percent at HCA Florida Kendall Hospital and 10 percent at HCA Florida Plantation Hospital. We ask for resident preferences prior to the schedule being made, so these percentages change depending upon your preference. We provide elective IR rotations at HCA Florida Mercy Hospital, and we hope to soon provide routine electives at Miami Children's Hospital.
What are the weekend responsibilities?
You will work roughly one in five weekends. The shift frequency and hours are the same as that of the faculty.
What are the scholarly activity expectations?
We require each resident to do one annual activity (such as a poster or exhibit), one residency Quality Improvement Project and one residency scholarly journal submission.
Where do residents live?
It varies, but most live around Aventura. Several live in Miami (usually in Midtown or Brickell), and, infrequently, some live either south near Coral Gables or 10-15 miles west of the coastline. Living in Aventura or Miami usually necessitates apartment living, while going further north or west enables one to purchase or rent a house.
What kind of feedback do residents receive?
The Program Director meets with each resident every six months. The resident will be presented with anonymous faculty and committee feedback. Additionally, we will go over exam scores and scholarly activity plans/progress as well as life/professional plans, goals and concerns.
Residents take an annual in-service exam provided by the ACR, and also perform a monthly informal exam after each rotation. Residents will also provide feedback to the Program Director regarding the program.