Englewood Community Hospital now offers comfort, confidence, and clarity with 3D mammography
Englewood Community Hospital Now Offers Comfort, Confidence, and Clarity with 3D Mammography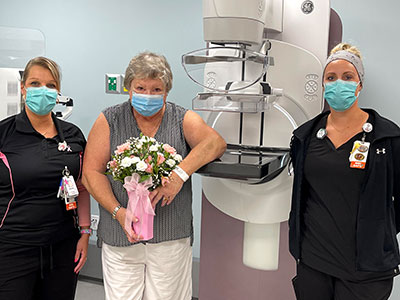 Long-time resident and former hospital volunteer, Susan Schultz, was thrilled to learn she was the first patient to receive a 3D mammography now offered at Englewood Community Hospital. While the words relaxed, comfortable, and mammogram typically do not go together, she said "The machine was much more feminine, softer curves and designed with input from women. Finally. A woman understands what we go through."
When it comes to breast cancer, it is best not to leave it to chance. Breast cancer is the second leading cause of cancer death in women. Women in the United States have a 1 in 8 chance of developing breast cancer, according to the American Cancer Society. For Florida women, breast cancer was the most frequently occurring of new cancer cases in 2018—the most recent year data is available—and the second most for cancer deaths.
The new 3D mammogram technology offers comfort, confidence and clarity for patients. Not only do the rounded edges and lighting offer patients a better experience, but it improves the quality of the images by allowing women to lean comfortably on the armrests, relaxing their muscles to simplify positioning and compression. The image receptor is also thinner, so it doesn't jab into a woman's ribs.
"Poor positioning in mammography is a key factor with image problems, often requiring a repeat scan. The lack of proper positioning can also reduce the sensitivity of the mammogram, possibly leading to missed cancers. 3D mammography represents the most advanced tool we have for screening mammography and we are happy to bring it to Englewood." said Dr. Paul Chupka, D.O., Chief Medical Officer and independent member of the medical staff.
The most effective way to detect breast cancer at an early stage is with mammography. The American Society of Breast Surgeons recommends that women with an average risk of breast cancer should initiate yearly screening mammography (3D preferred modality) at age 40. Women with a higher-than-average risk of breast cancer should undergo yearly screening mammography (3D preferred modality) with consideration of supplemental imaging.
Susan shared advice for other women, "Don't wait. It's not as painful, it was easy. Just make an appointment, show up. The staff was wonderful. Just do it. Don't be afraid."
3D mammography is offered at Englewood Community Hospital at 700 Medical Boulevard in Englewood. To learn more about 3D mammography, talk to your primary care physician. To schedule your 3D mammogram, call 866-463-7072.
Published:
September 28, 2021
Location:
HCA Florida Englewood Hospital